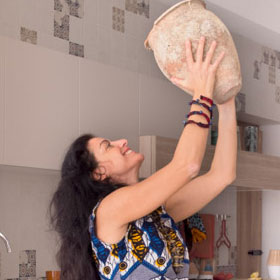 Agata
down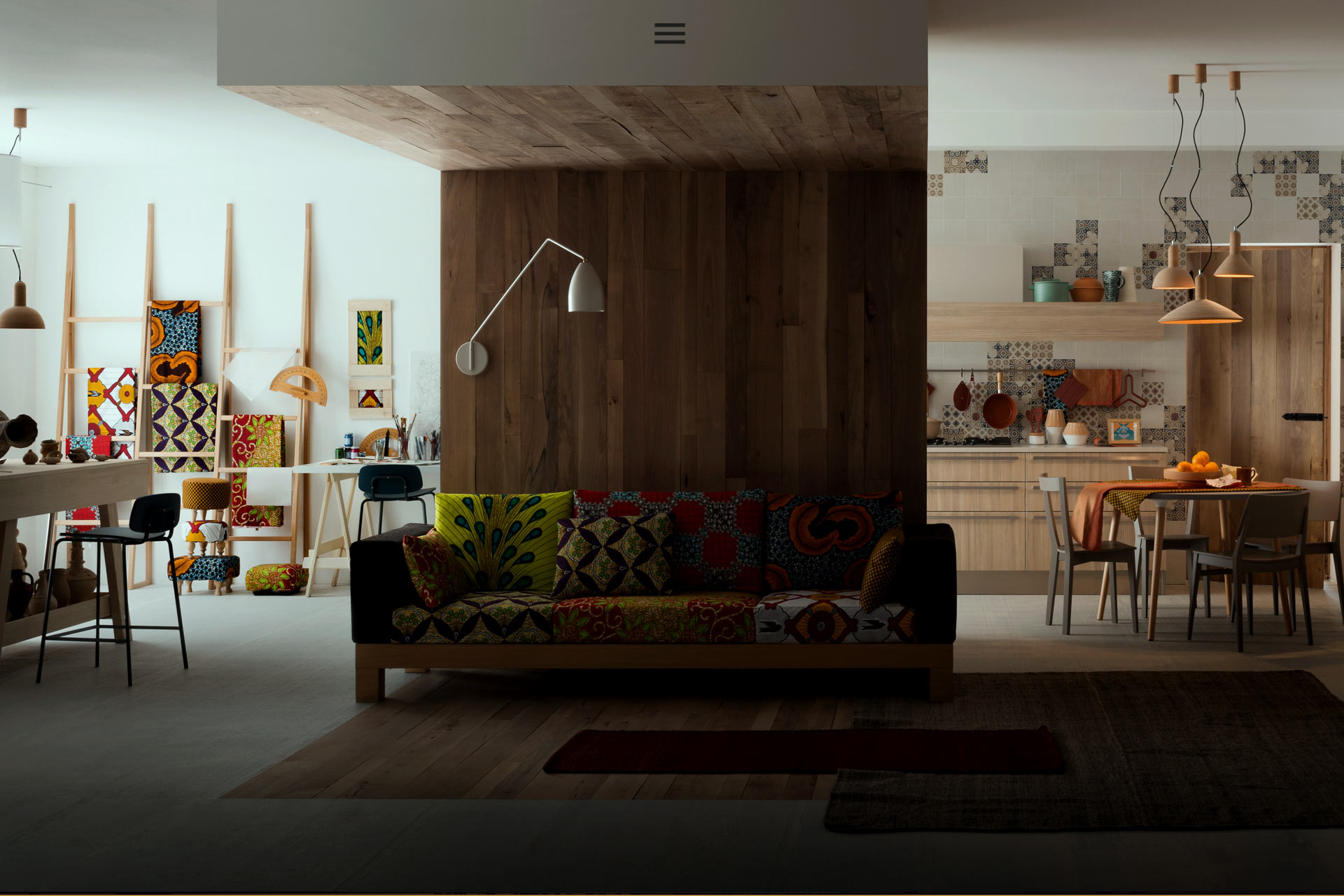 This is Agata's kitchen, but not only Agata's.
With her many different passions and interests, she has turned her kitchen into a sort of crossroads for all her friends, colleagues and acquaintances, who flock here to share their experiences, hopes and ideas. So let's hear it for Marta, an old friend from Agata's university days who shares her passion for restoration and terracotta.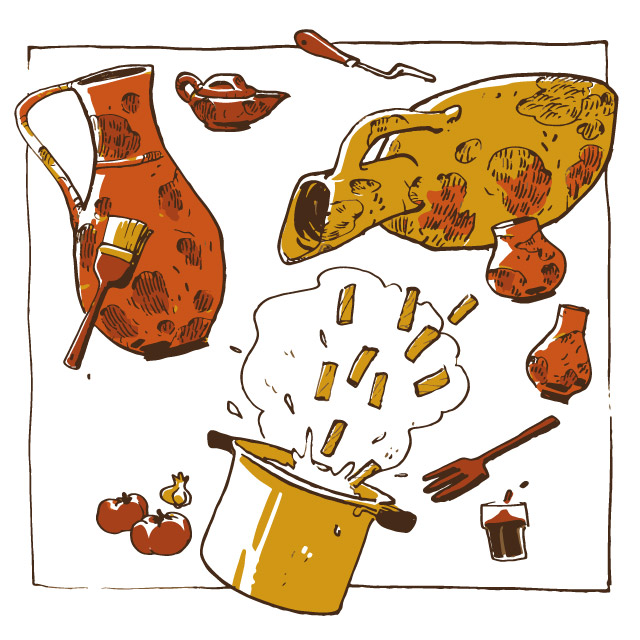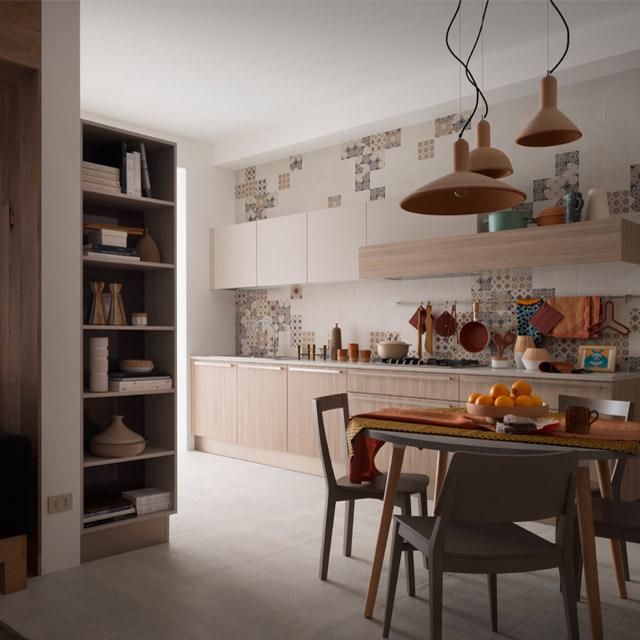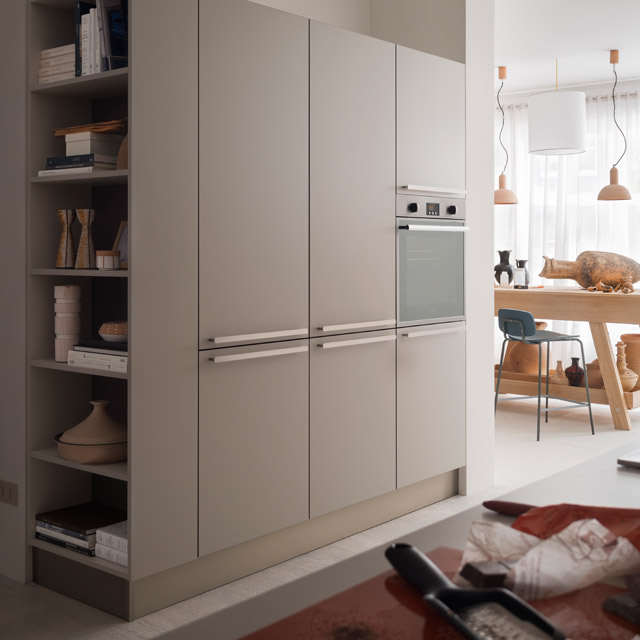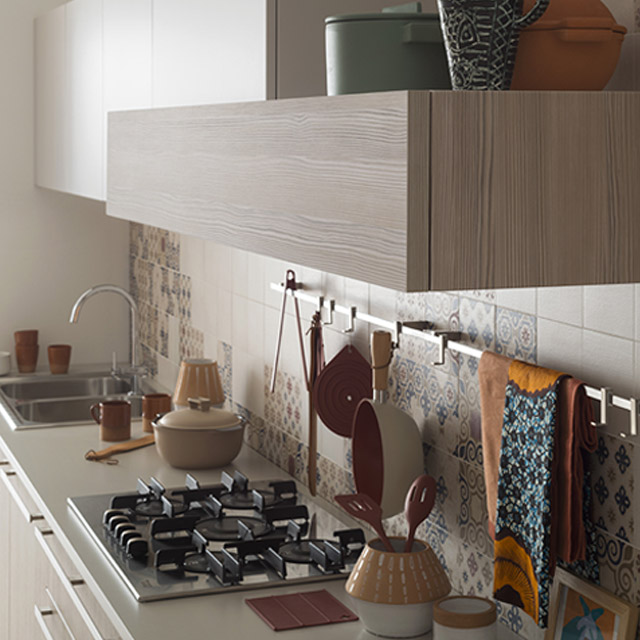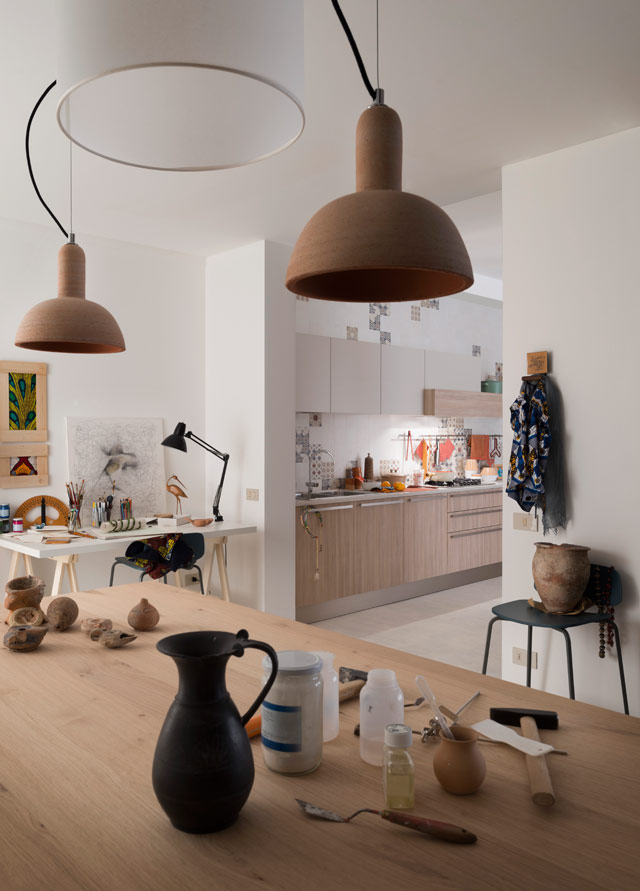 We're both Sicilian – she's from Catania, I'm from Siracusa – so we clicked immediately. Even then, cooking was a big part of our life, blending childhood memories with creativity, delicious "mustazzòli" and our favourite singer, Carmen Consoli. Then we fell in love with terracotta..... After graduating, we took a specialist course in restoration, and now we work from time to time for the archaeological museum in Siracusa. Vases, amphoras and jars serve as a link to our origins.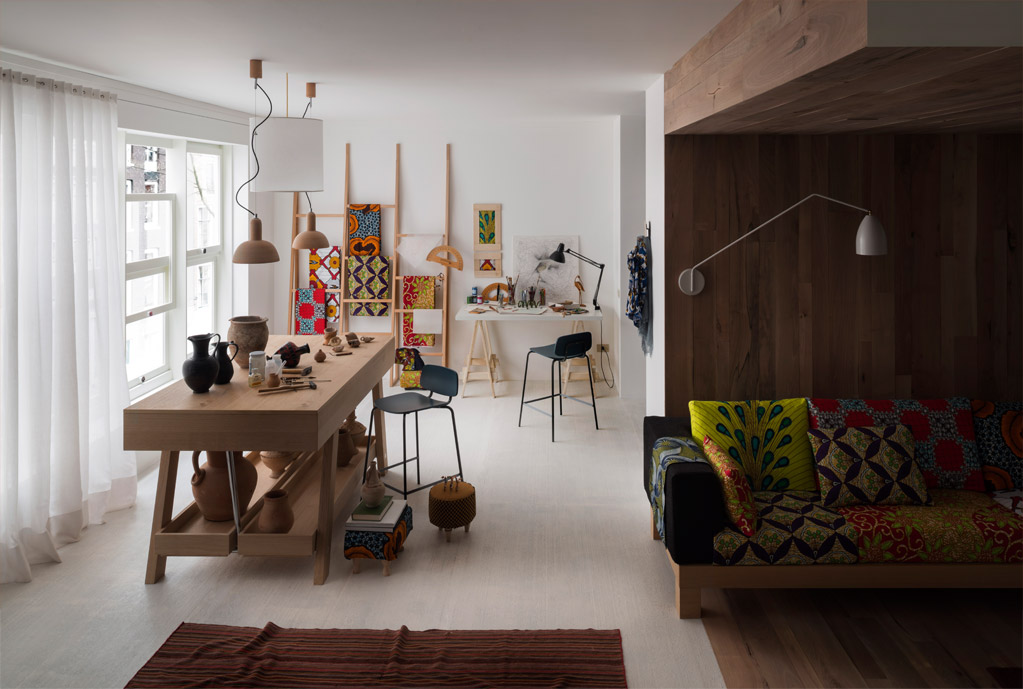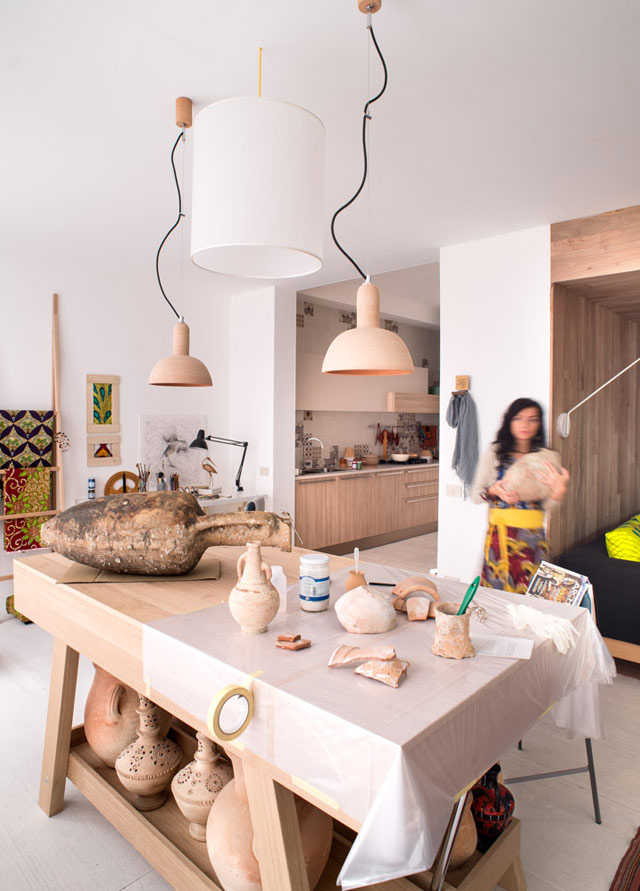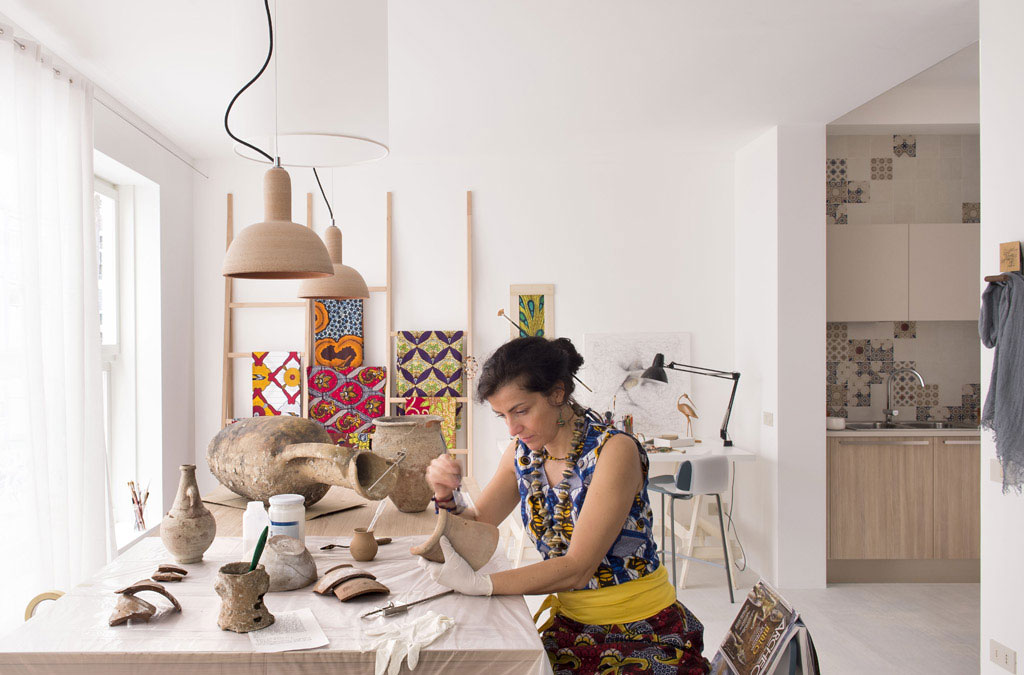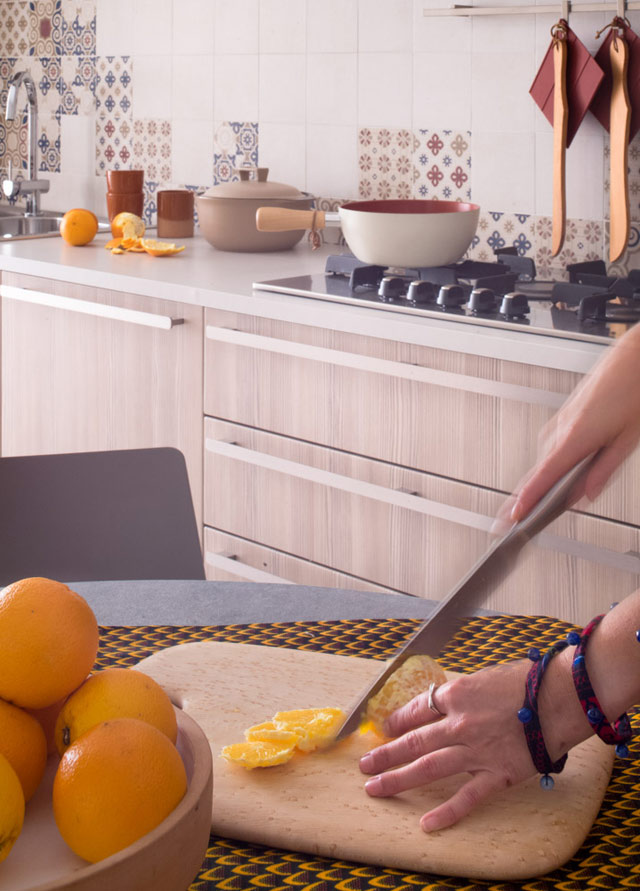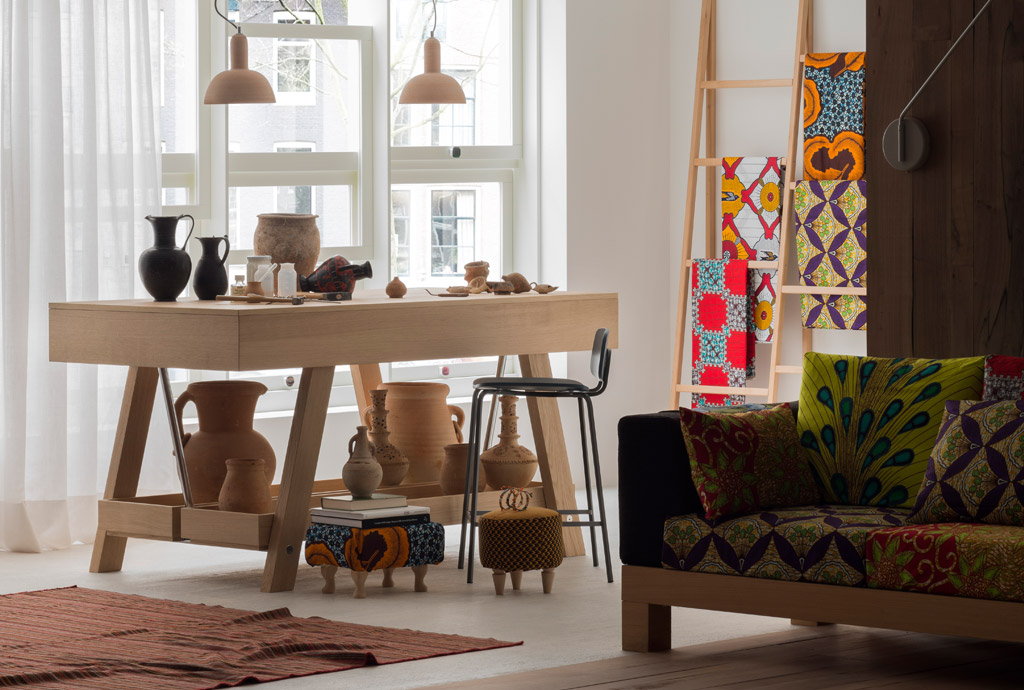 It is such a pleasure to pass the time brushing and smoothing these items surrounded by the light wood of the kitchen cabinets, which reflect a soft light. Each time we work together, we seem to find more and more elements that cooking and terracotta have in common: clay and flour are the raw materials, and both are mixed with water; they require air for drying and heat for baking or cooking – one result is an amphora, the other a plate of spaghetti!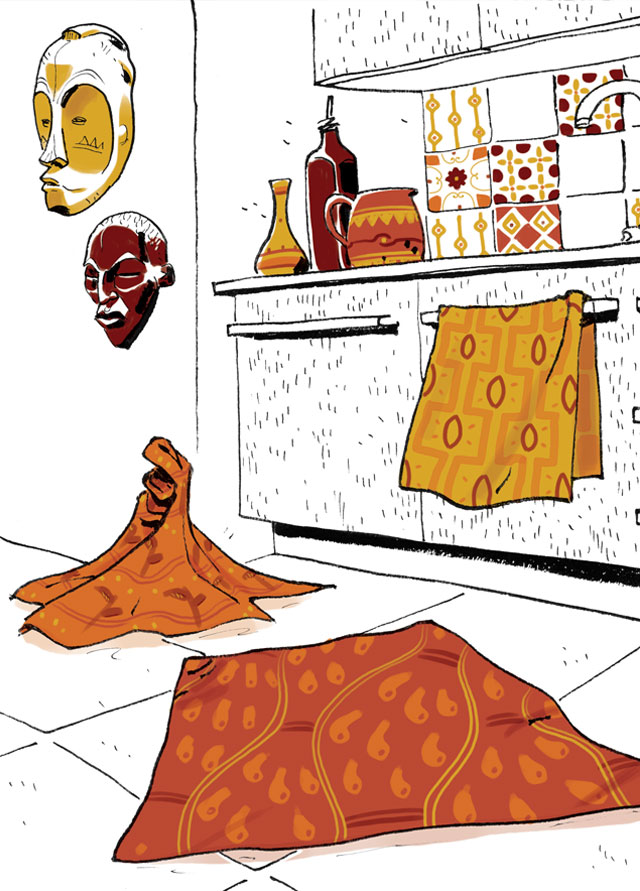 She lives in Milan, and has instilled in Agata her great love of Afro culture, wax drawings and Dutch fabrics.
That forum on African culture quickly proved to be less than adequate. The web is a fantastic place because, after a while, you realize that you just have to meet someone in person. So, after endless discussions about fabrics, coloured shapes containing countless messages, and after sharing hundreds of photos, we really needed to get together.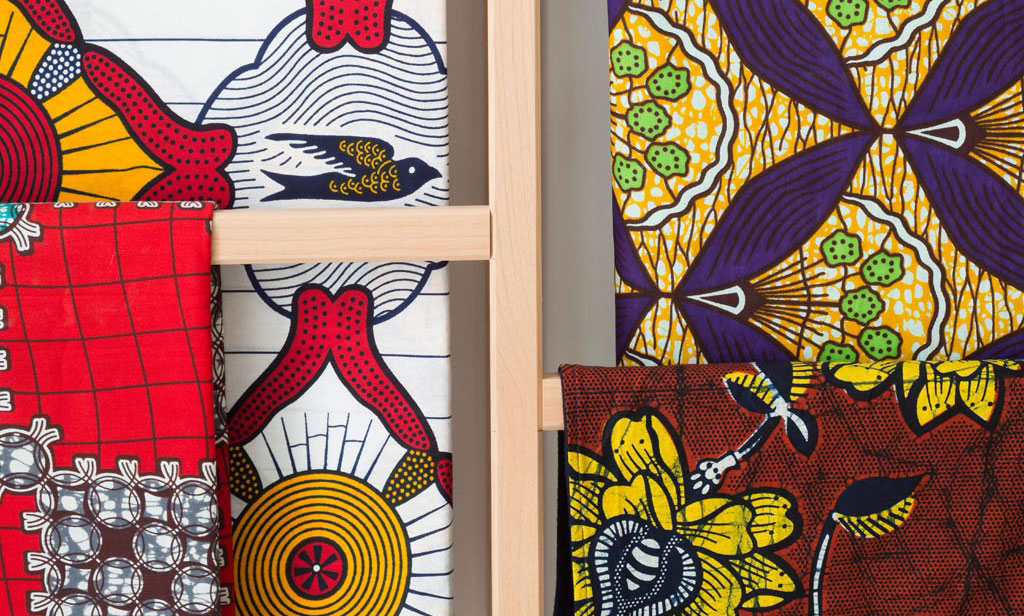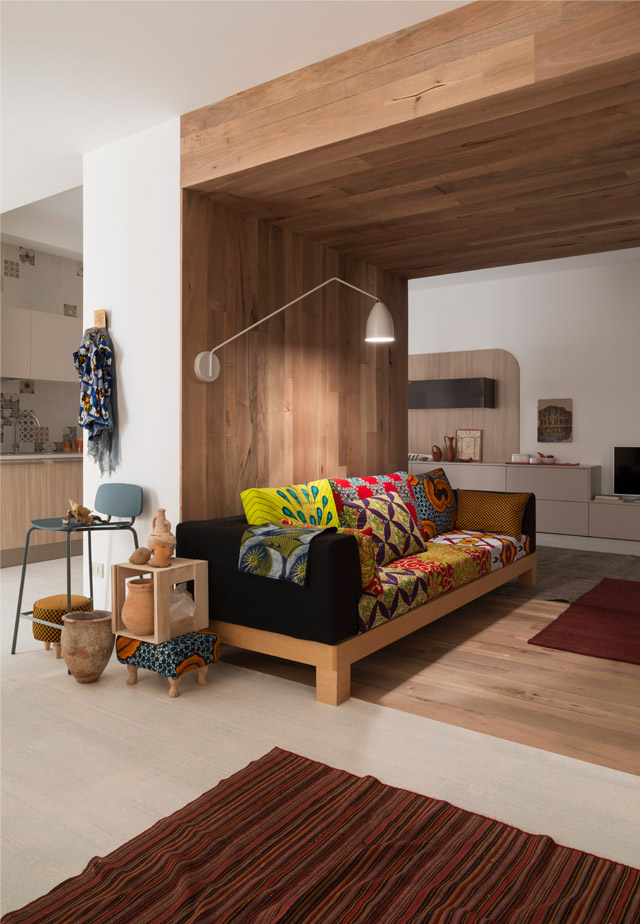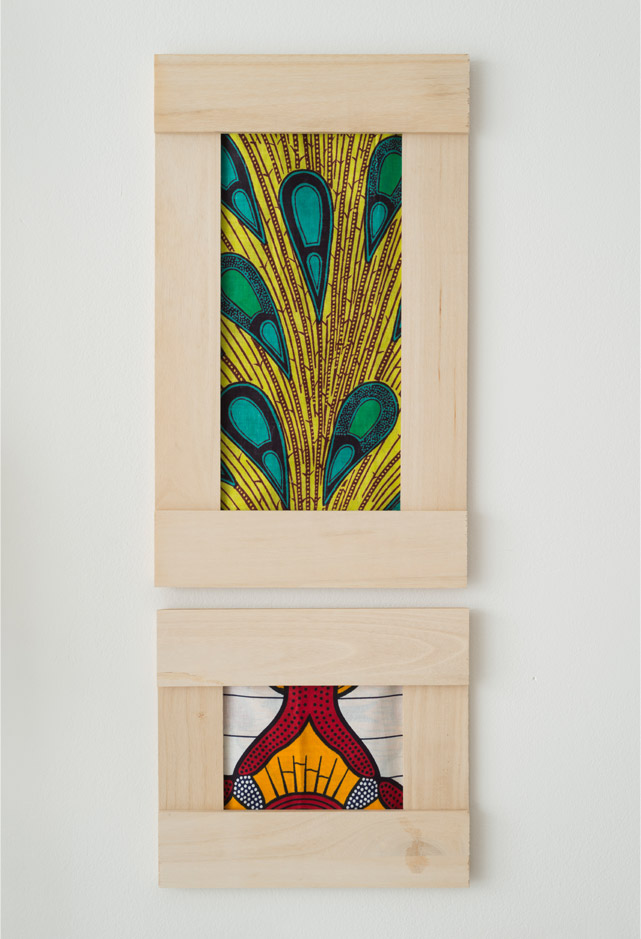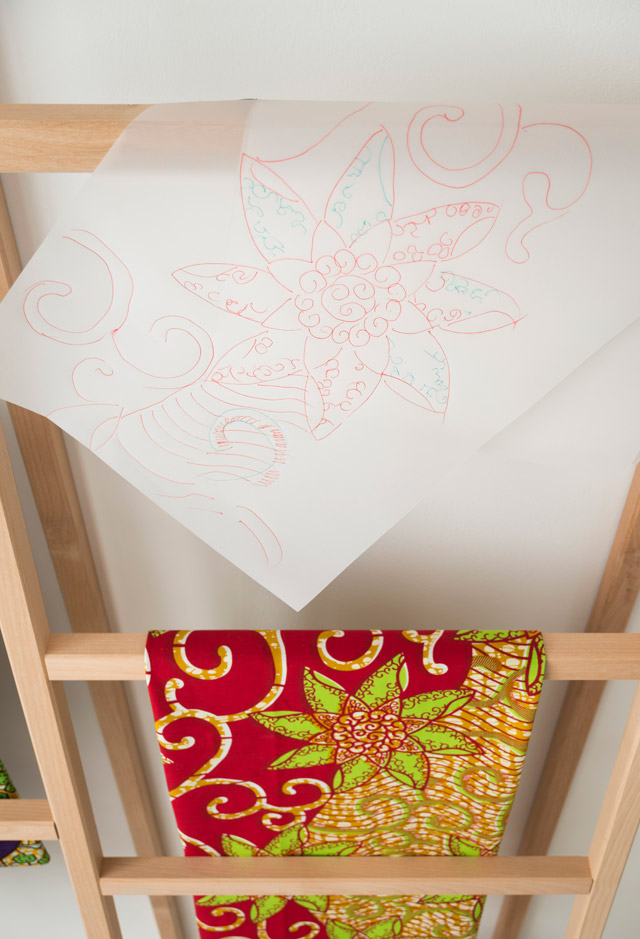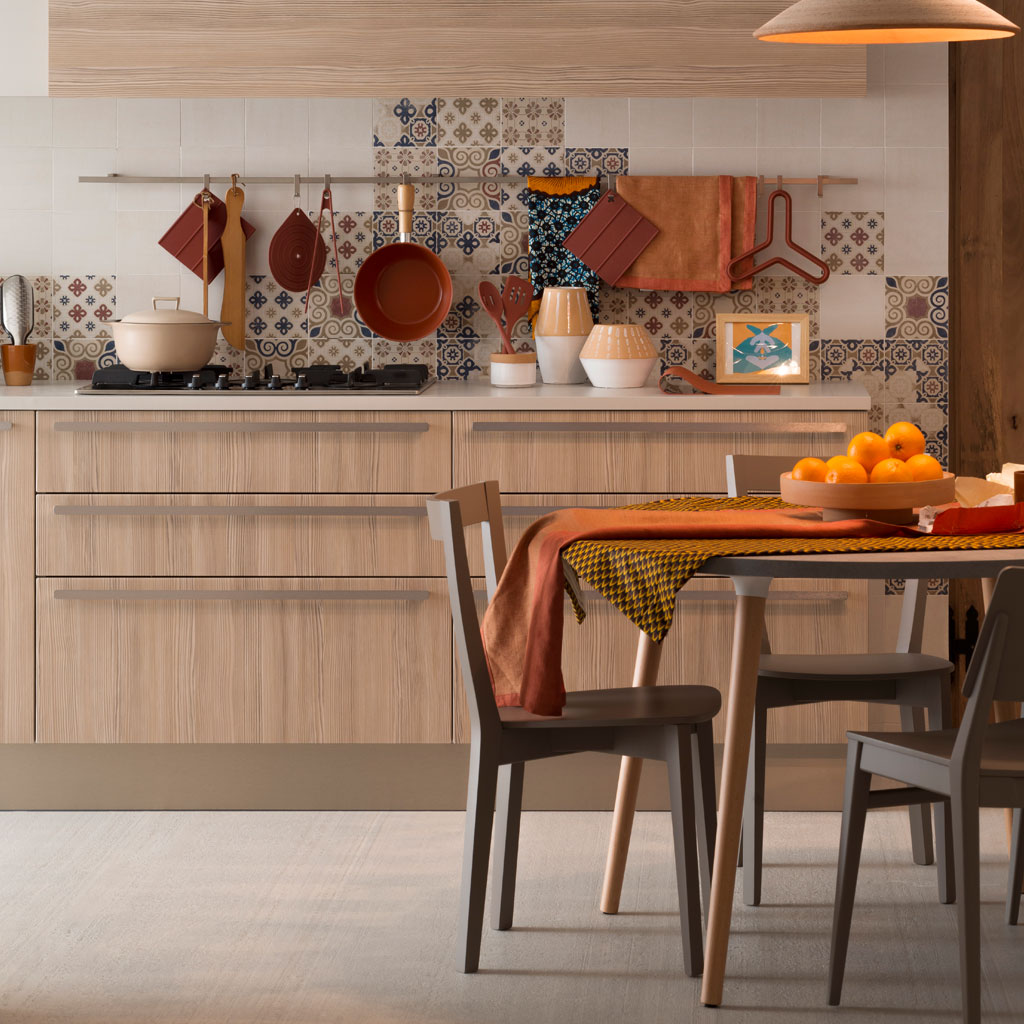 That's because the kitchen forms the entrance to Agata's flat and is the heart of her home, the focal point of all her passions. I had but a moment to notice the assorted tiles placed in an artistic non-pattern before I found myself on the floor surrounded by all her coloured wax prints, some of which I had never seen before. Since that first day, meetings – with other members of the forum, too – became more frequent. All in Agata's kitchen, naturally.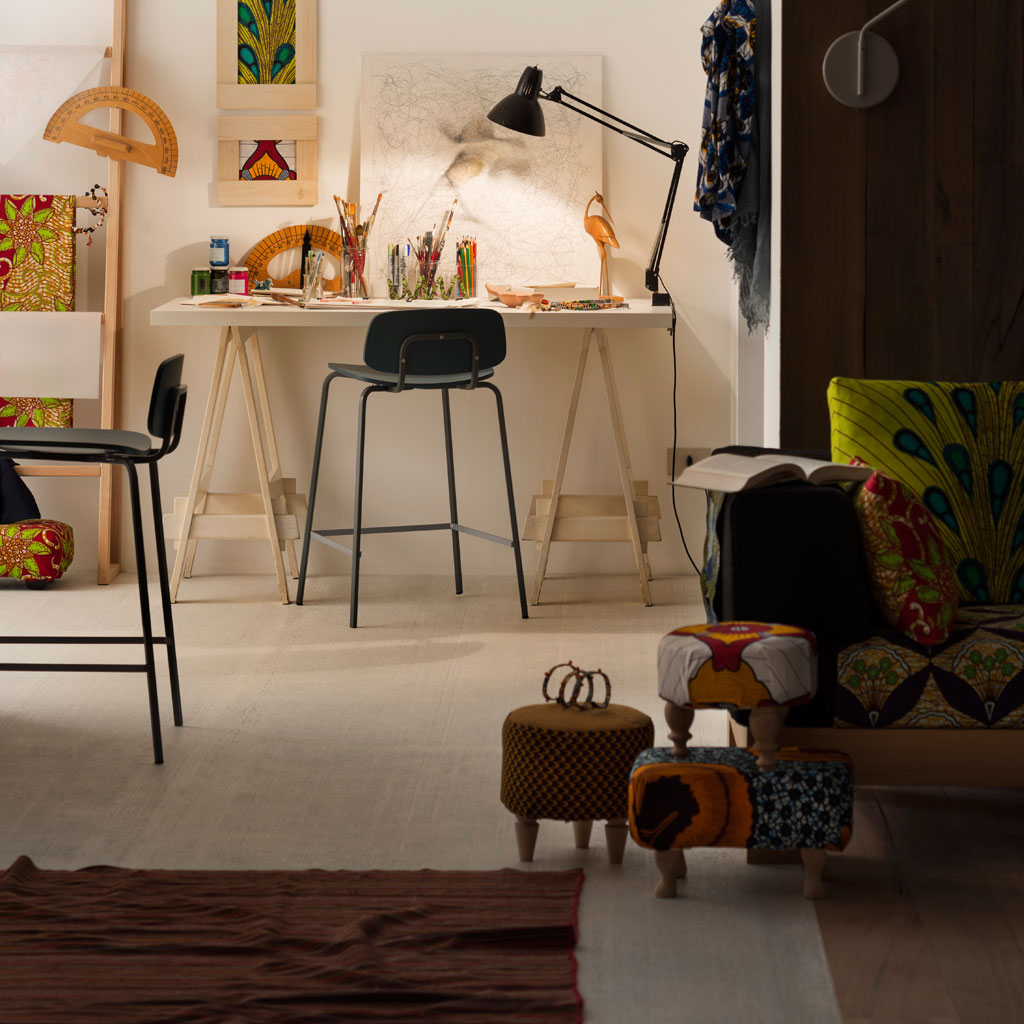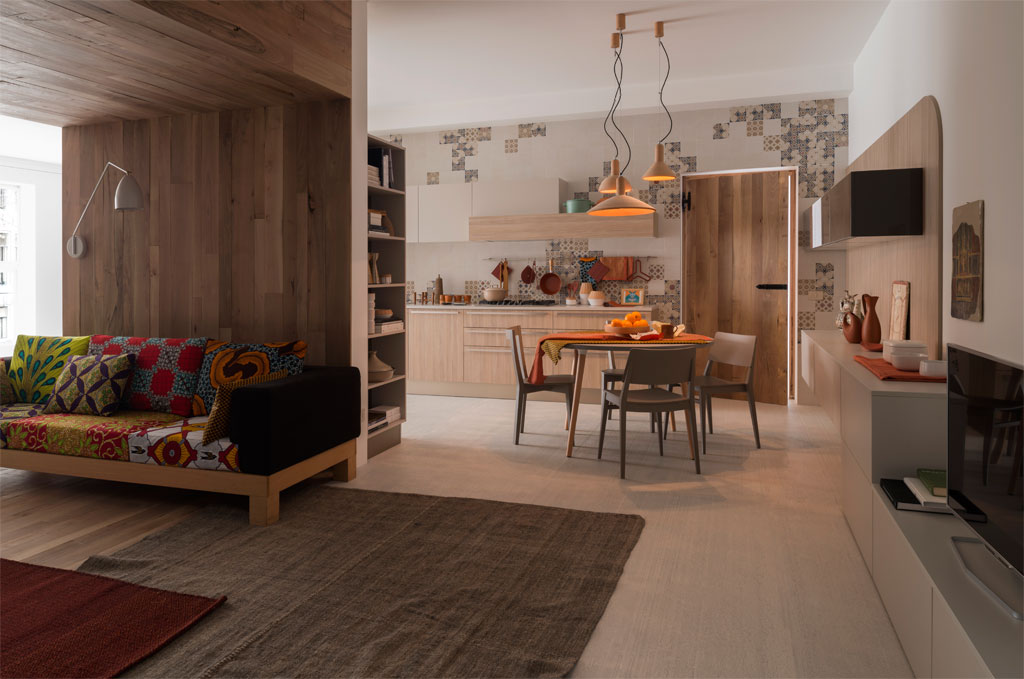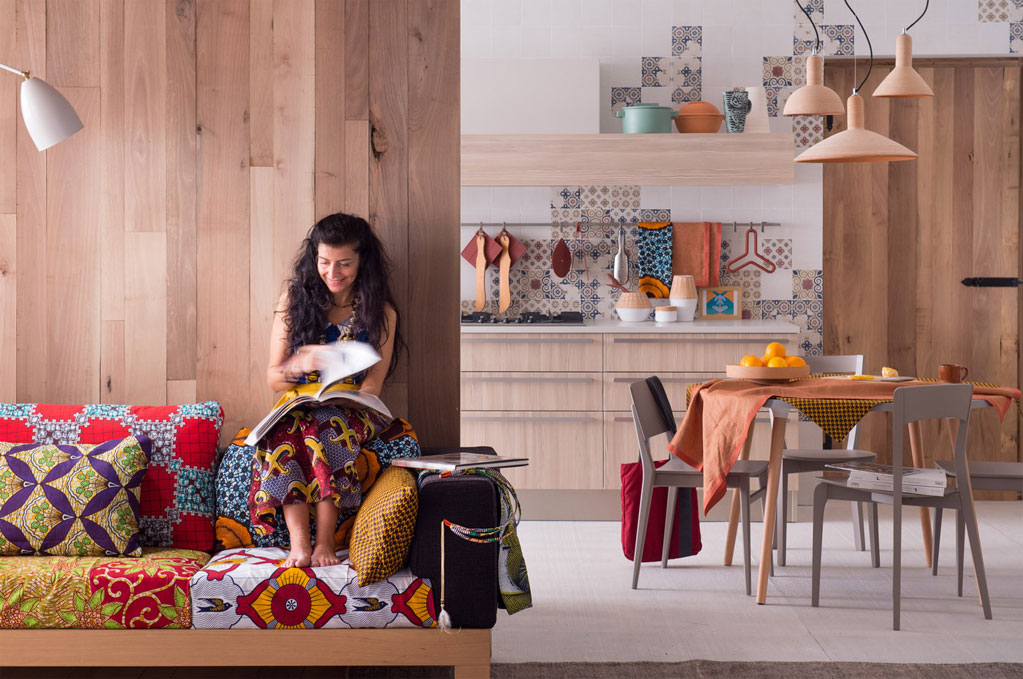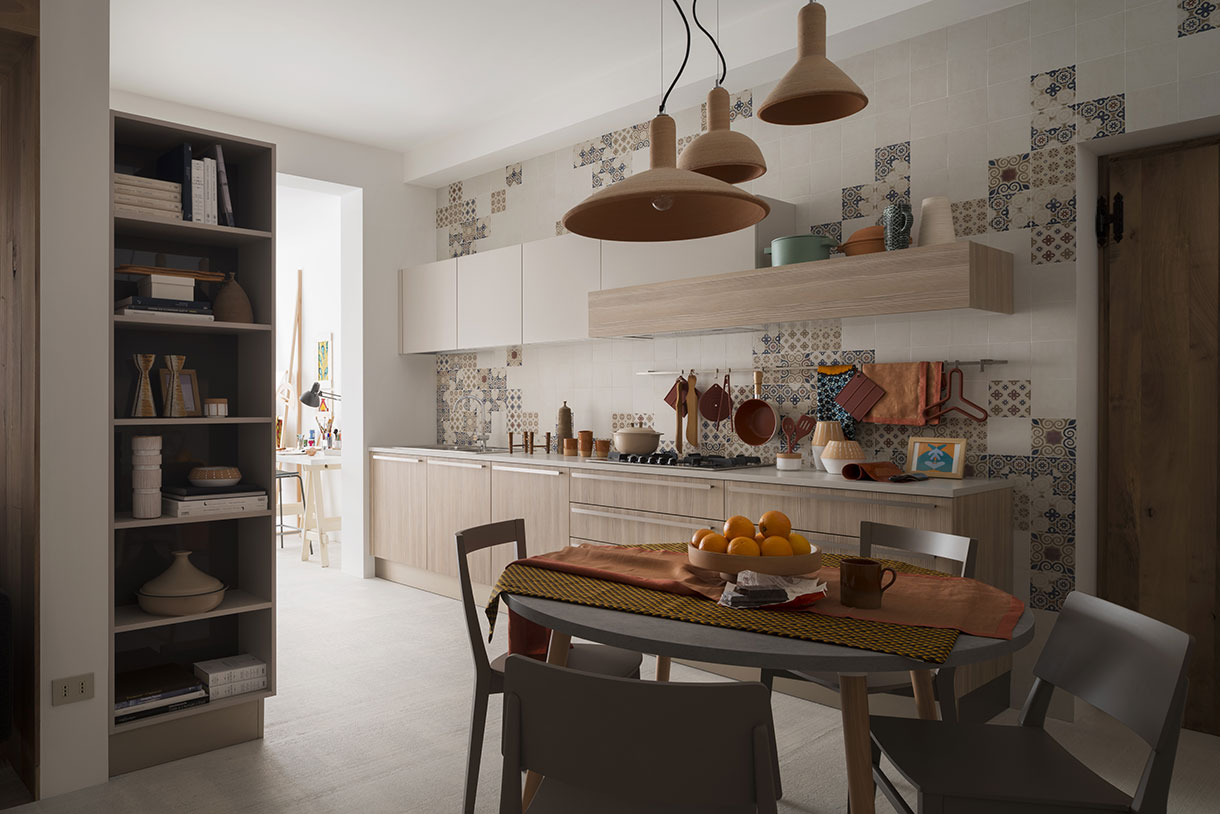 She, too, is extremely enthusiastic about the project. Lise speaks no Italian, so Agata speaks for her: "Once a month Lise turns up like a whirlwind. Full of ideas, projects and recipes to be shared. She says that it's the light in Italy that increases her creativity. And also that it's my kitchen, so rational and practical, that has transformed her into a chef. Lise! When I first met her, she only used to eat in restaurants! Now Lise visits Italy about once a month to see how the work is progressing and to set up new projects.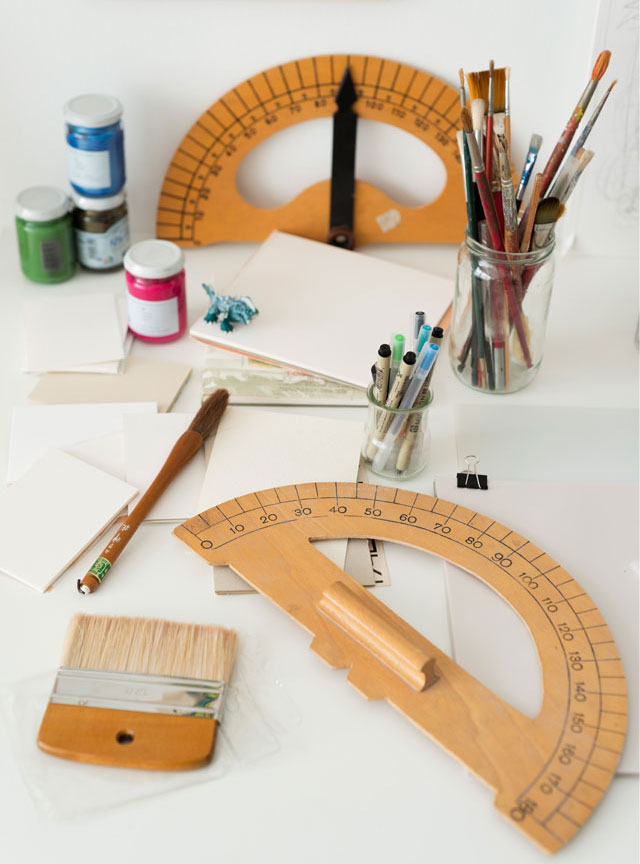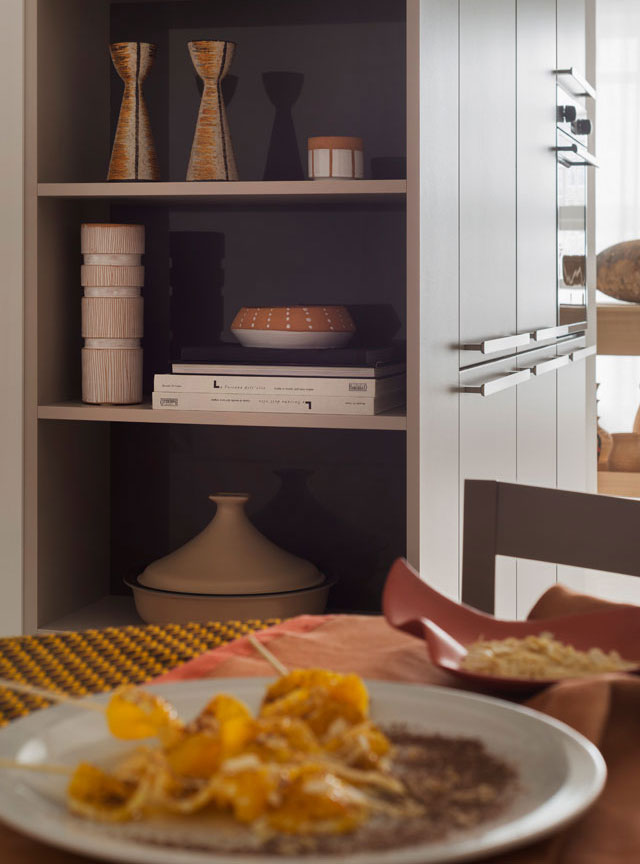 At first, we used a conference room that one of our commercial partners kindly loaned us, but for quite a while now our meetings have been held at my flat. To be more accurate, in my kitchen. This is where work, life, business plans, dreams, problem-solving and the preparation of appetising delicacies come together and complement each other.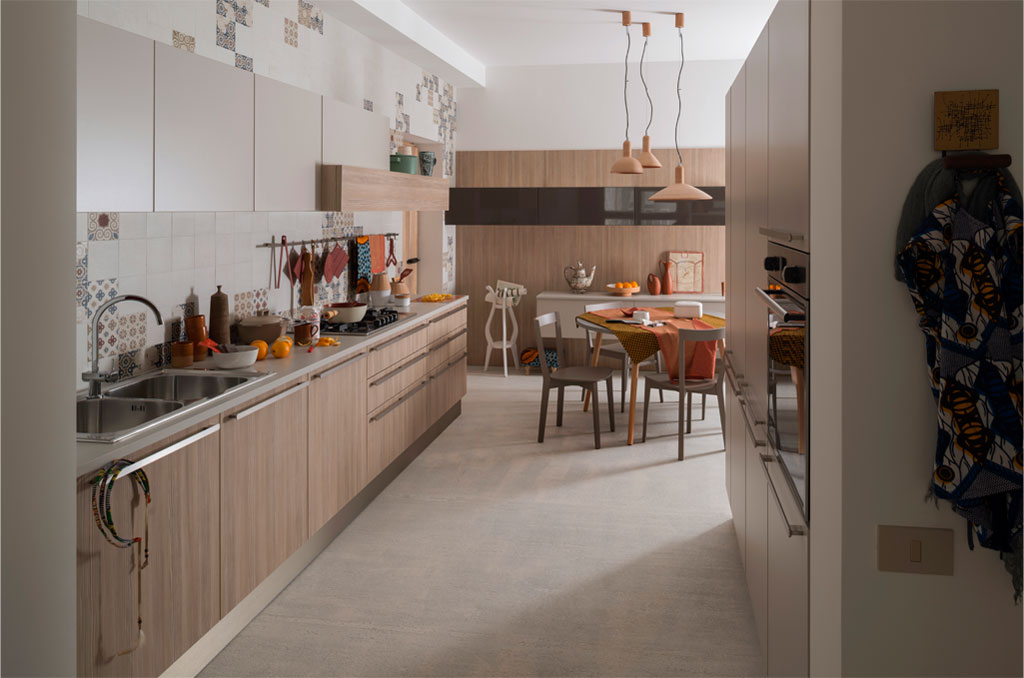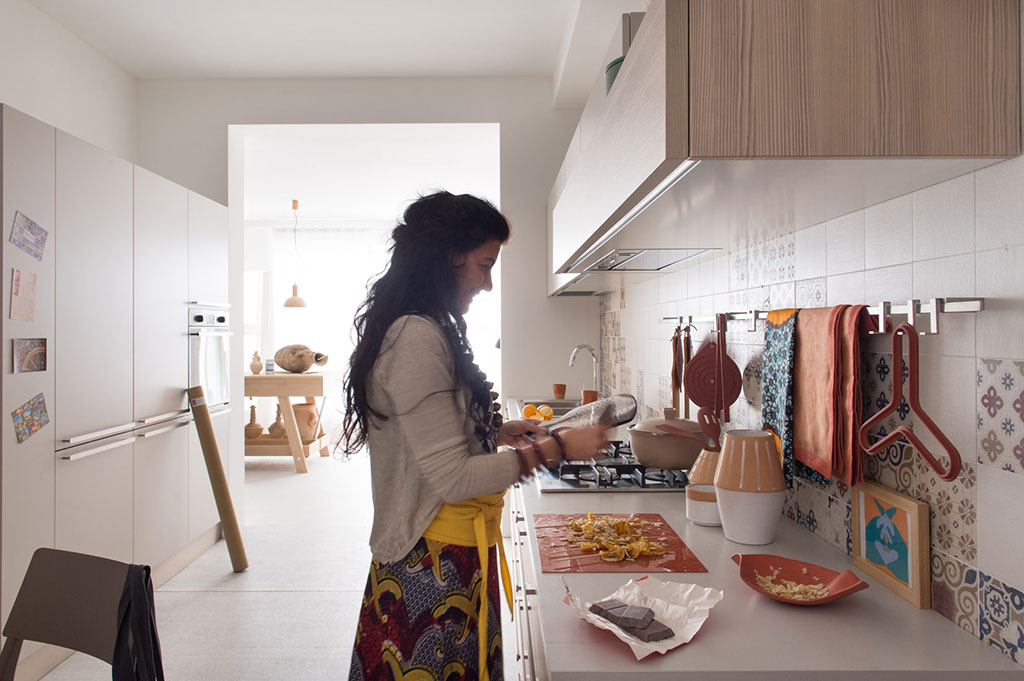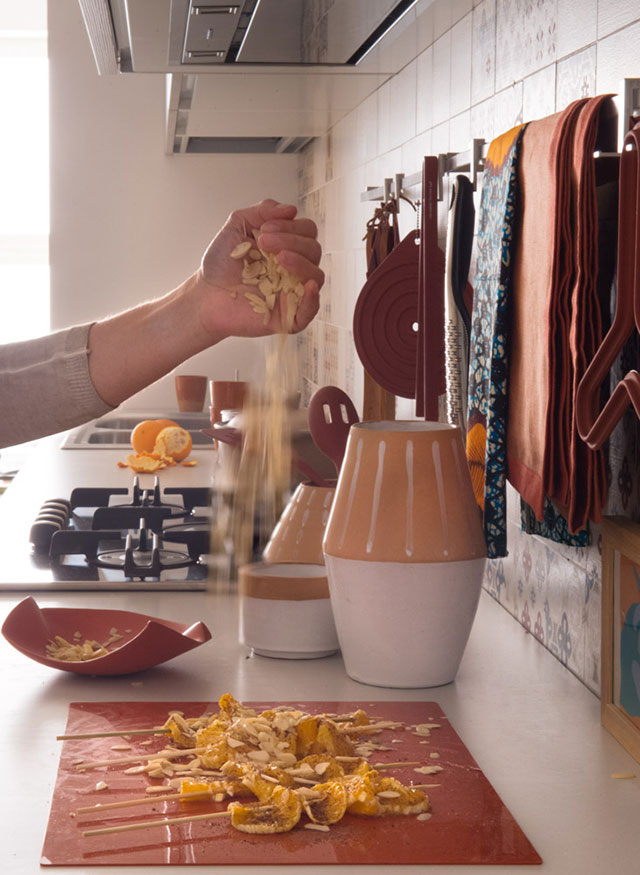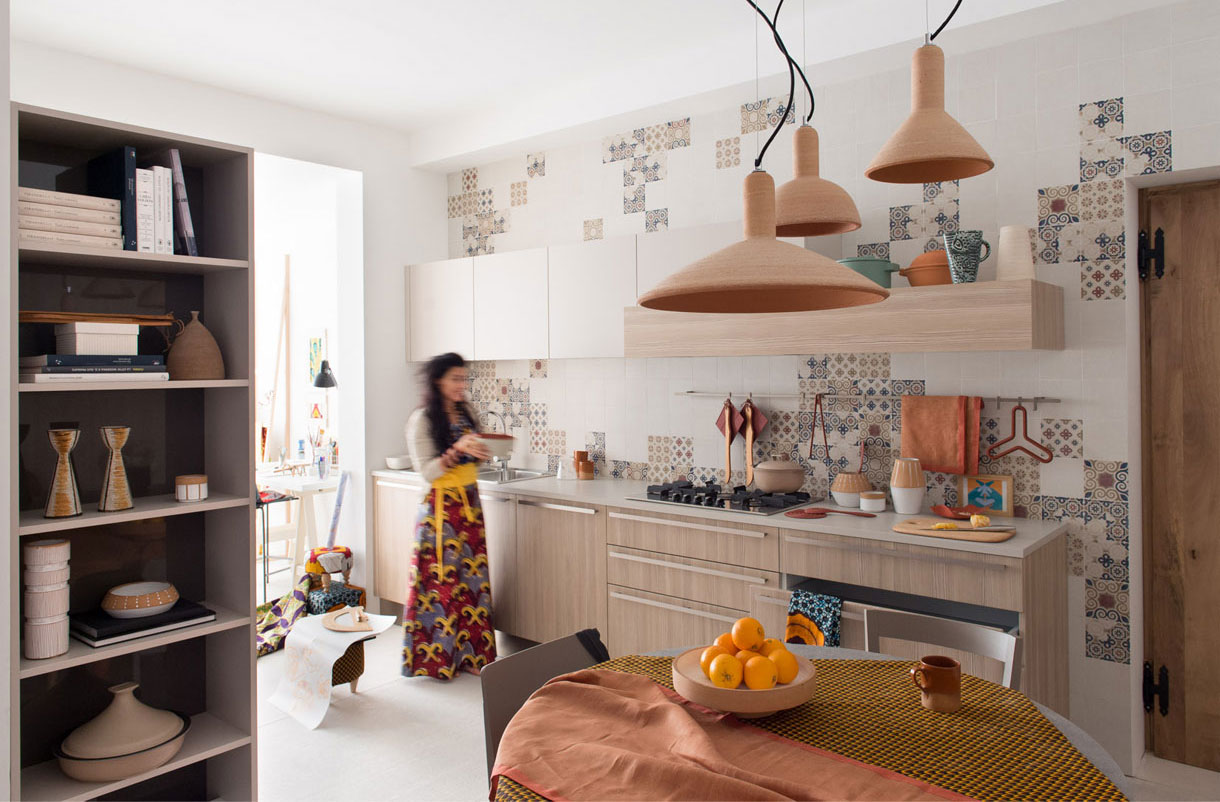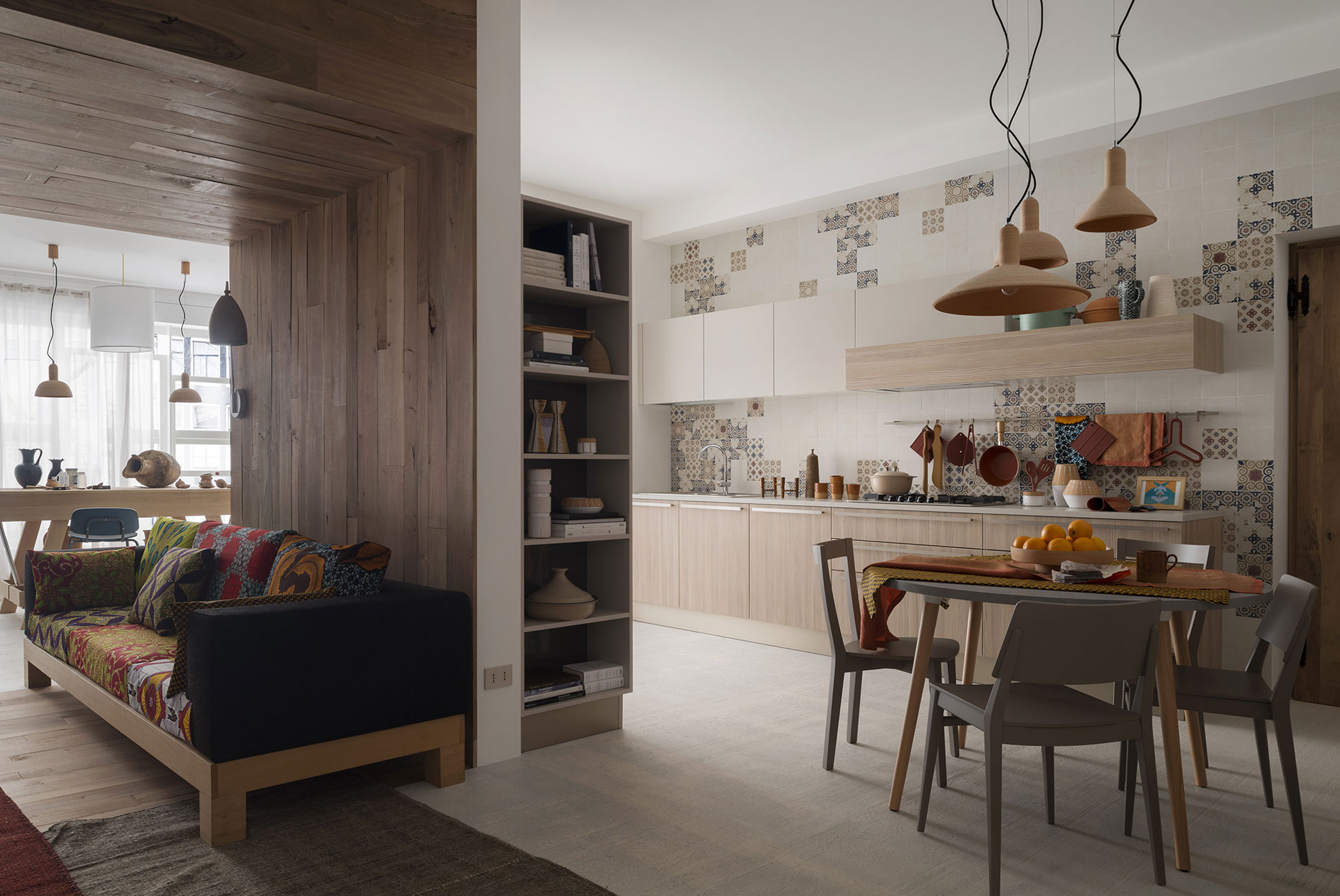 Company info
Company info
Veneta Cucine SPA

Paid-in Capital: Eur 28.220.000 i.v.

Registered Office: Via Paris Bordone, 84 - 31056 Biancade (TV) - Italy
Administrative Office: Via Paris Bordone, 84 - 31056 Biancade (TV) - Italy

Company Register of Treviso /Fiscal Code n. 03764840264

×
Privacy policy
WEBSITE'S PRIVACY POLICY
THE AIMS OF THIS STATEMENT

This page is aimed at describing the website's administrative procedures concerning the processing of its users' personal data, that will be processed lawfully, fairly, relevantly and not excessively.

This statement is produced pursuant to Art. 13 of Legislative Decree no. 196/2003 - Personal Data Protection Code for those users who interact with the web services of Veneta Cucine SPA, accessible by internet starting from the page: venetacucine.com, corresponding to the homepage of the official website of Veneta Cucine SPA.

This statement only concerns the website of Veneta Cucine SPA and not other websites that the user may consult through the use of link.

This statement is prompted by Recommendation no. 2/2001 implemented on 17 May 2001 by the European authorities for personal data protection, brought together in the Working Party established byArt. 29 of Directive no. 95/46/EC (download) in order to identify several minimum requisites for the collection of personal data online, and, in particular, the procedures, times and the nature of the information that data controllers must supply users when the latter connect to web pages, regardless of the purposes of connection.

THE DATA CONTROLLER

Data concerning identified or identifiable subjects can be processed following consultation of this website.

The data controller who processes this data is Veneta Cucine SPA, with offices in Via Paris Bordone, 84 - 31056 Biancade (TV) - Italy.

WHERE DATA PROCESSING TAKES PLACE

The processing operations connected to the web services of this website take place at the above-mentioned offices of Veneta Cucine SPA nd are carried out only by technical personnel of the Department in charge of processing, or by persons in charge of occasional maintenance operations.
Processing occurs by means of data storage in electronic archives at the company , whose access to the data is limited to maintenance procedures in compliance with the provisions in enclosure B.

No data deriving from the web service shall be communicated or disseminated.

The personal data supplied by the users who request dispatch of informative material (newsletters, information, catalogues, CD-ROMs, etc.) are used with the sole purpose of supplying or performing the service requested and are communicated to third parties only if necessary for this purpose (dispatching services of Veneta Cucine SPA).

THE TYPES OF DATA PROCESSED
Navigation data

The computer systems and software procedures in charge of the website's operation acquire, during their normal operation, some personal data (so-called log files) the transmission of which is implicit in the use of internet communication protocols.

This information is not collected in order to be associated to identified data subjects, but due to its same nature can, by means of processing and integration with data held by third parties, allow users to be identified.

This category includes the IP addresses or domain names of the computers used by the users to connect to the website, URI (Uniform Resource Identifier) form addresses of the resources requested, the time of the request, the method used to submit the request to the server, the size of the file obtained in reply, the numerical code indicating the status of the reply given by the server (done, error, etc.) and other parameters concerning the user's operating system and computer environment.

These data are used with the sole purpose of obtaining anonymous statistical information concerning the use of the site and to check its correct operation. These data can be used to ascertain responsibility in the case of hypothetical computer crimes to the detriment of the website and can be communicated to the Judicial Authority, in the event that the latter explicitly requests such data.
Data supplied voluntarily by the user

The optional, explicit and voluntary dispatching of electronic mail to the addresses indicated in this website entails the subsequent acquisition of the sender's address, necessary in order to reply to the requests, and also any other personal data contained in the message.

Specific concise information concerning personal data shall be cited or visualised in the web pages dedicated to particular services on request.

INFORMATION ABOUT COOKIES

What is a cookie?

A cookie is a small text file that is stored by the computer when a website is visited by a user. The text stores information that the site is able to read in the moment in which it is seen at a later time. Some of these cookies are necessary to the site to work properly, while others are useful to the visitor because they can safely store such as user name or language settings. The advantage of having the cookies installed in your pc is that you no longer need to fill out the same information every time you want to access a site you visited before.

Why does Veneta Cucine SPA use cookies?

Veneta Cucine SPA uses cookies to provide its customers with a customized web experience and allow them to visit again a website without having to enter each time the same information. Cookies are also used to optimize the website performance: in fact they make easier the process of product searching within the site. In order to protect personal data against loss and any form of unlawful processing Veneta Cucine SPA has taken appropriate technical and organizational measures.

First-party cookies

First-party cookies are generated by the manager of the site the user is browsing. This category include technical and performance cookies. Technical cookies are used for the transmission of session identifiers (consisting of random numbers generated by the server), which allow a safe and efficient navigation of the website; Performance cookies are used for statistical purposes, for the detection of unique users, viewed or downloaded content etc. Google Analytics, for example, works using this type of cookies. Data are stored anonymously and used as an aggregate. To disable Google Analytics cookies, you can use a special tool made available by Google itself. To install, click here.

Third-party cookies

Third-party cookies, such as that are generated by the "Like" button in Facebook, are generated and used by a different party from the manager of the site on which the user is browsing, based on agreements between the website owner and a third party. Some advertisers use these cookies to track your visits on sites where they offer their services.

How can I disable cookies?


You can easily modify browser settings to turn off cookies. Warning: when you disable cookies your username and password will be no longer stored on the login box of the site.
Firefox:
Open Firefox
Press the "Alt" key.
In the toolbar at the top of the browser, select "Tools" and then "Options."
Then select the "Privacy" tab.
Go to "Cronology Settings" and then click "Custom Settings". Uncheck "Accept cookies from sites" and save your preferences.
Internet Explorer:
Open Internet Explorer.
Click on "Tools" then "Internet Options."
Select the "Privacy" tab and choose the privacy level you want (move the slider up to block all cookies, or down to allow them all).
Then click OK.
Google Chrome:
Open Google Chrome.
Click on "Tools."
Select "Settings" and then "Advanced Settings".
Select "Content settings" under "Privacy".
In "Cookies and Site Data" you can search and delete specific cookies.
or
Type chrome://settings/cookies in the address bar and press Enter key.
You will access to "Cookie and Site Data" where you can search and delete specific cookies.
Safari:
Open Safari.
Select "Preferences" in the toolbar, and then select the panel "Security" in the following dialog box.
In the "Accept Cookies" section you can specify if and when Safari should save cookies from websites. For more information click on the Help button (marked with a question mark).
For more information on cookies that are stored on your computer, click on "Show Cookies."
SUBMITTING DATA IS OPTIONAL

Excepting for that specified for navigation data above, the user is free to provide personal data contained in the request forms to Veneta Cucine SPA or indicated in contacts with the Office to request the dispatching of informative material or other communications.

Failing to submit personal data may make it impossible to process the request.

It must be remembered that in some cases (not object of the ordinary administration of this website) the Authority can request information pursuant to Art. 157 of Legislative Decree no. 196/2003, for the purposes of checking personal data processing. In these cases reply is obligatory under penalty of a fine.

DATA PROCESSING PROCEDURES

Personal data are processed by computerised means for the time necessary to realise the purposes for which they were collected.

Specific security measures are observed in order to prevent the loss of data, unlawful or incorrect use and unauthorised access.

DATA SUBJECTS' RIGHTS

The subjects to whom the personal data refer have the right, at any time, to obtain confirmation as to whether such data exists and to know its content and source, check its accuracy or request its integration, updating or rectification (Art. 7 of Legislative Decree no. 196/2003.).

Pursuant to the same article the Data Subject has the right to obtain the erasure, anonymisation or blocking of data that has been processed unlawfully, and also to object in any case to its processing, on legitimate grounds.

Such requests shall be made to Veneta Cucine SPA.
×